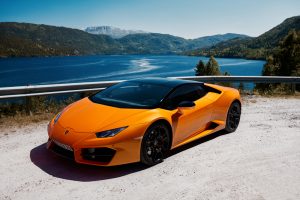 What's a dream ride without a hit of raw power and unrelenting performance? Among the top rides in existence, our evolving selection of exotics features a range of impressive
performance specs for every aficionado after an adrenaline-fueled liftoff. With peak features like cutting-edge aerodynamics, state-of-the-art engine engineering, and more horses and torque than both of the cars in your garage, we've got it all here at MTB Exotics. 
So, which exotic engine has it all? Depending on your definition of the dream drive, our selection of exotics features a viable pick for every preference. Choose from raw performance, earth-friendly engine innovation, and other unforgettable engine specs that blend high-velocity potency with comfort and class. Whatever unrivaled specs belong in your next-best rental experience, take a look at our top picks and get ready to turn some heads.  
The Lamborghini Huracan Is A Show Stopper
The newest Huracan Evo by Lamborghini tramples other supercars with 630 horses on standby. Ideal for adrenaline junkies and everyone else who can appreciate the eye-catching body styling of Lambo's latest lineup, this unrivaled exotic is worth every penny. 
Powered by a responsive 5.2L V10 engine that looks as good as it performs, this beautiful supercar only lacks sufficient trunk space. This super beast is compact, futuristic, built for speed, and ready to impress with: 
202 MPH Top Speed

0-62 MPH in 2.9s Flat

V10 Multi-Point Injection 

443 Lb-Ft Max Torque
If you'd like to learn more about either our Huracans or the Urus, every Lamborghini rental in Dallas comes with a wealth of vehicle insight and other tips to make the most of your rental experience at MTB Exotics.
The BMW i8 Hybrid Is Redefining Green Engine Efficiency
While the latest i8 may not be the fastest in our collection, expect to have your expectations blown away the second you hit the pedal or lift the i8's scissor doors. Unlike any other hybrid on the market, the BMW i8's twin-turbo, 3-cylinder engine boasts an outstanding: 
155 MPH Top Speed

357 Gas-Sipping Horses

420 Lb-Ft Torque

~69 Miles Per Gallon

0-60 MPH in ~4.2s
Whoever said power and efficiency aren't a pair has never driven the i8. If you want upper-class luxury, optimized handling, and more than enough engine power to spare, you'll be glad you picked this earth-conscious exotic. 
Change Your Perspective On Performance With A Porsche
Only surpassed by the upper echelons of the supercar industry, our high-performance Porsche rental in Dallas is the ideal candidate for the best in style and versatility. Designed to flow with sharp curves and accelerate with ease, our Panamera is a triple threat with fuel-injected engine power, an innovative traction management system, and plenty of quality-of-life features to spare.
Noteworthy specs of our Porsche Panamera include: 
Turbocharged 3.0L V6

331 Ft-Lb Torque

330 Horses

AWD reliability
Looking for other impressive engines to experience? Contact our pros at MTB Exotics today.